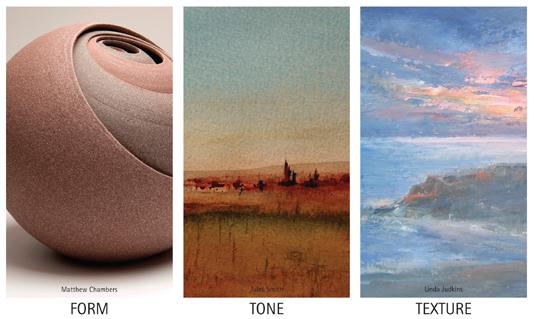 We have brought together an exciting mixture of creators from the region for the Form, Tone and Texture exhibition.

Sarah Whapples, from Solihull, creates glass and enamel pictures whose textured work compliments perfectly the tonal watercolours of Malvern based artists Ian Cruickshank and Trevor Smith. Birmingham's Jules Smith's watercolours embody peace, calm and contemplation, which nestled alongside the bolder, textured oils of Worcester's Linda Judkins' landscapes should provide any visitor to the gallery plenty for visual fulfilment.

The ceramics in this exhibition have a strong sculptural theme - the emphasis is on form, whether it is in the burnished raku of Tim Andrews, the clay tubes and cones of Lisa Ellul or the organic shapes of Regina Heinz and Matthew Chambers.