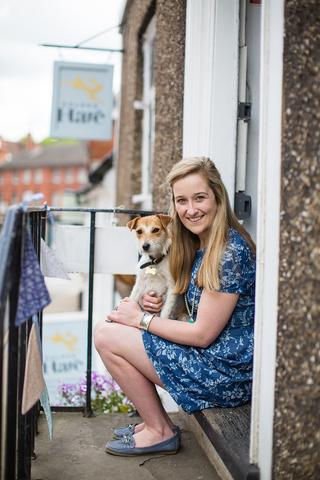 Golden Hare Gallery in Ampthill has a selection of work from some of the UK's top artists and crafts people. The gallery has a diverse range of work from ceramics, glass, jewellery, paintings and print as well as much more.
Twenty six year old Laura and Puddle the Parsons Terrier can be found in the gallery and you are sure to be welcomed by a smiling face and a little waggly tail!
Golden Hare got its name from the 'Masquerade' book by Kit Williams. You may remember the nationwide hunt for the golden hare amulet in the early 80's. A series of riddles and clues throughout the book led to the place where a gold hare was buried. The secret location was actually in Ampthill park itself and It seemed only right to name the gallery after this beautiful item and story.The gallery has a selection of handmade work ranging from a birthday card, to a little bowl or book for under £20, a Special gift for a wedding or a birthday present for under £100. To beautiful original paintings and works of art for up to £1000.
Laura, the owner of Golden Hare handpicks artists from around the UK and her style and passion for visual merchandising is evident in the gallery.
You'll find a wide selection of Ellul Ceramics tiles and some selected sculptural pieces in this gorgeous gallery.